In a new study abroad program, 15 SPU students from a variety of majors explored Italy's sustainable food production first-hand in Florence. "I know that food and water are huge barriers to development in other countries," said one student. "I wanted to see how food production is done in a more sustainable way, and I totally did in Italy."

Read more
News for Parents and Families
General Keith Alexander Speaks to Capacity Crowd in Royal Brougham
Seattle Pacific University brought the former head of the National Security Agency (NSA) and retired four-star Army Gen. Keith B. Alexander to campus April 9 for a free public lecture.

Alexander, widely regarded as one of the world's foremost experts on cybersecurity — a topic of growing concern in America — offered his insider's perspective on espionage, cybersecurity, and privacy. The title of his lecture was "Hackers, Spies, and Freedom."

Dr. Katya Drozdova, assistant professor of political science and an expert in the field of cybersecurity, moderated the discussion.

Alexander also spoke at SPU's Downtown Business Breakfast on April 10 to more than 1,000 Puget Sound business, government, and community leaders. Last year's speaker was former Secretary of State Madeleine Albright.

Read Gen. Keith Alexander's biography.



Dad's Day 2015
Be sure to save the date for Dad's Day on April 25. Dads and their students are invited to enjoy a lunch together on campus — and then in the early evening catch a Mariner's game against the Minnesota Twins. Details and registration.
"SPRINT"ing Into Summer
This summer teams of students will travel with SPRINT (Seattle Pacific Reachout International) to learn and serve alongside local leaders around the globe.

You can get involved by supporting fundraising efforts going on now. If you live near campus, hire a SPRINT student for a work project around the house. Email Maddy Petrowski (petrowskim@spu.edu) for more information. $10 per student per hour. Learn more.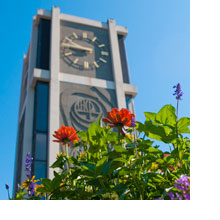 2015–16 Tuition Costs
In early March, next year's undergraduate tuition and room and board rates, with an increase of approximately 4.5 percent, were announced following the February 2015 Board of Trustees meeting. Learn more.